Newhouse Ferry Boat
"I was the Captain on the Newhouse that day. Here are two photos showing the boat emerging from the dust cloud. We were northbound off of Governors Island.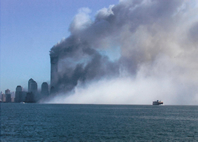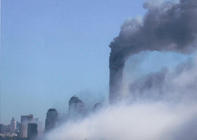 We witnessed the second plane go into the tower. I took my passengers to safety in St. Geo, unloaded and then immediately returned for another load. We were in the slip in Whitehall when the first building fell. It blanketed us in dust and smoke, we departed fully loaded in zero visibility. We had to navigate by radar alone as the smoke and dust blocked out all visibility. We had to travel through numerous vessels that were lost in the cloud and did not emerge from the smoke and dust until half way down Governors Island.
We were loaded to capacity with everyone donning life jackets as they were frightened due to the boat being engulfed with smoke and dust. Some were crying others praying and some just silent. We unloaded again and made a couple of more trips that day."
- James Parese, Captain Newhouse Ferry Boat
Copyright © 2002, New York Harbor Sailing Foundation, Inc. Last modified: August 14, 2002